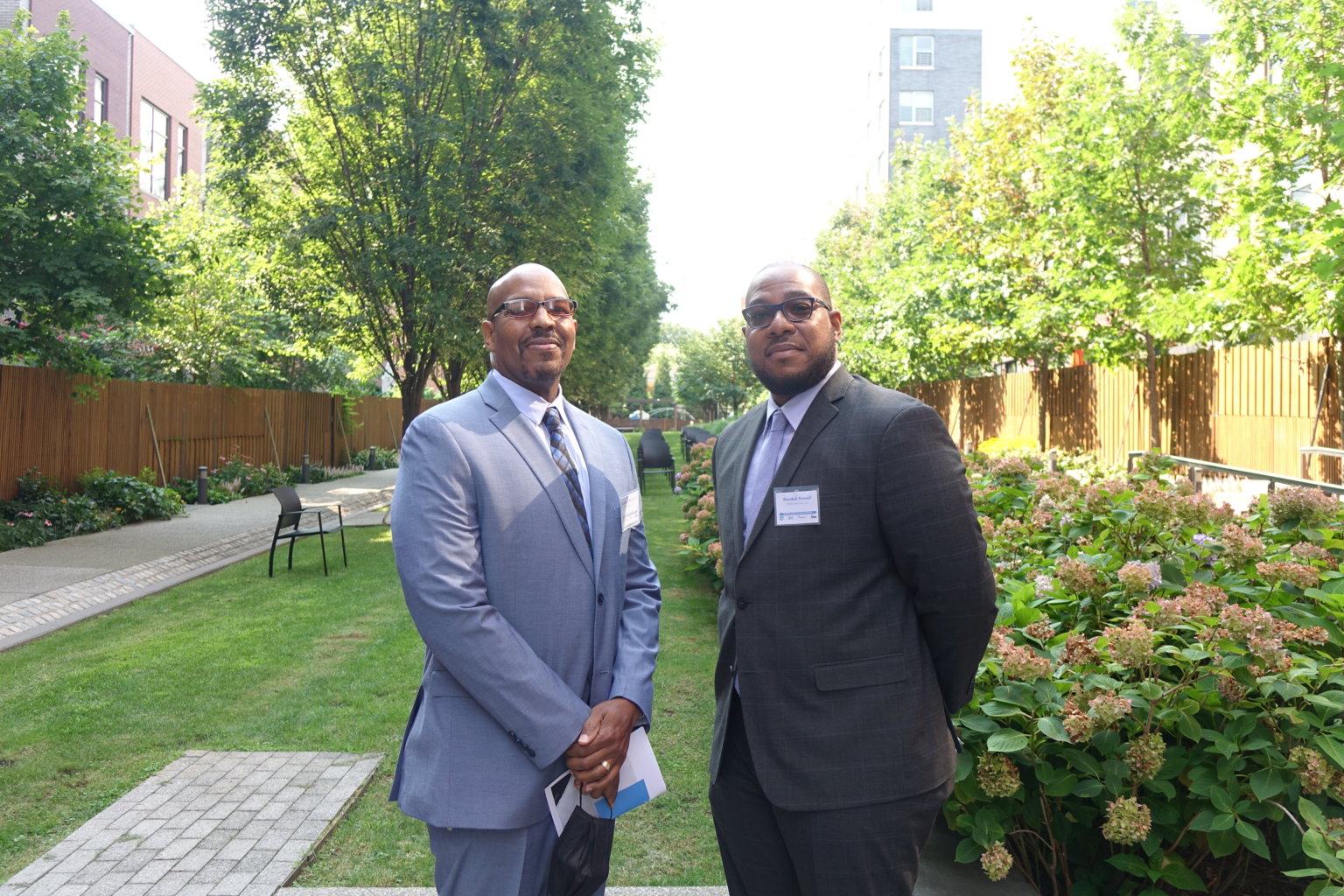 https://qns.com/2022/02/south-jamaica-brothers-break-barriers-competitive-real-estate-industry-in-new-york-city/
South Jamaica brothers break down barriers in competitive real estate industry in New York City
Brothers Randall and Roland Powell, of south Jamaica, who co-founded the firm Infinite Horizons, are graduates of the LISC Developer's of Color Training program that has provided them with the tools and resources to continue to grow their business in the real estate development industry. (Photo courtesy of the Powells)
Two brothers from south Jamaica, who graduated from an inaugural cohort of a minority-owned business enterprise (MBE) developer incubator program, are breaking barriers in the New York City real estate industry with their family-owned development.
Randall and Roland Powell, who co-founded the Queens development firm Infinite Horizons, are graduates of the LISC Developers of Color Training program that has provided them with the tools and resources to continue to grow their business.
After working in the real estate industry for over three decades in various capacities, Roland, along with his brother Randall, who has worked for developers and contractors, established Infinite Horizons LLC in December 2007.
The Powells had a vision of developing affordable housing in their community of south Jamaica and across the city. They acquire and redevelop underutilized land and blighted properties into safe affordable housing.
"Who else better to serve the community of color than people of color? I'm right here in the neighborhood within a 10-minute walking distance from our next project," Roland said. "I've been living in the neighborhood for 30 years and have seen how the real estate crash has affected my neighbors, who have lost their homes. I understand what it takes to bring the neighborhood back together, or to rebuild the neighborhood."
The LISC Developers Color of Training program came at the right time, as they struggled to get their organization to a platform where they could do business and large-scale projects, Randall said.
"This program coming along has put us in front of lenders and investors and that's what we needed since day one when we got into the business," Randall said. "We have been able to prove that we have the capacity, understanding and support, not only of LISC but also the city Housing Preservation Department and other agencies and organizations to make this path forward."
The Local Initiatives Support Corporation (LISC) is one of the United State's largest community development finance institutions (CDFI). Since its inception in 1979, LISC has been supporting projects and programs to revitalize communities and bring greater economic opportunities to residents.
Valerie White, who is the executive director of LISC NY, launched the Developers of Color Training program in November 2021 to help MBE developers expand their capacity and project access while becoming more competitive as the city's housing project pipeline grows and more market opportunities arise.
The program helps developers of color enhance their networks, gain access to capital and build their capacity to expand their existing portfolio of business and contracts. The curriculum is developed in partnership with Columbia University and Queens-based R.F. Wilkins Consultants.
"We all know that looking at contractual opportunities, developers of color are not able to have the same opportunities as non-minority developers," White said. "We wanted to come up with a program that would be of assistance."
According to White, there's cultural integrity that comes with developers who look like the community for whom they're building and understanding those complexities.
"If we are looking to close the racial wealth gap, then equitable opportunities need to be made to developers of color, and the real estate industry is that economic engine that can help close that racial wealth gap," White said. "You're bringing two things together, bringing a cultural integrity and sensitivity into rebuilding parts of the city, while providing an opportunity for owners of color to gain wealth by having access to contractors."
Upon completion of the program, the Powells have learned how to create marketing materials to present their business to potential investors, an understanding of construction, learning how to be more clear in joint-venture partnerships, their stake and role within a project and how to expand into new opportunities.
The Powells say they're appreciative of LISC NY and the Developers of Color Training program for recognizing the work they're trying to do in the community.
"We understand that it's a path, but when you have partners that will be on that path and can help you through the process, it doesn't seem as burdensome and you can see the light at the end of the tunnel," Randall said.
The Powell's have been awarded a site in the Melrose section of the Bronx, where they will construct a building with community and retail space. They're also planning to transform a cluster of vacant lots in their neighborhood of south Jamaica.
As the Powells move their project forward, they have been asked to mentor high school and college students who are interested in learning more about the real estate development industry.
"We hope that our story and what we've done encourages people in the community and even outside of the community to know that if you hold the line and pursue your dreams and try to do good work, people will recognize you for it," Randall said. "There's always a stigma that as Black or Latin community, we always have outsiders coming in and helping us, but there's so much talent within our own ranks and our community. Sometimes we have to stand back and take a look — that's where the diversity, equity and inclusion really comes in."
Columbia Business School's Developers of Color Program, Local Initiatives Support Corporation (LISC), and R. F. Wilkins Consultants, Inc. held its virtual Developers & Investors Conference last Friday, January 28, 2022
Congratulations to Randall E. Powell and Roland Powell, Jr. of Infinite Horizons, LLC on receiving the largest number of matches by the Shark Tank team.
Thank you to all the Presenters, Sponsors, Collaborators, and Partners who made this exciting event possible!
A Very Special thanks to Valerie White of LISC NYC!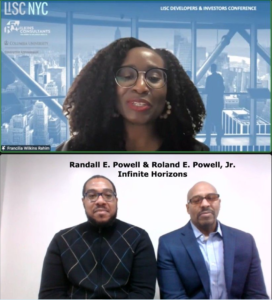 Infinite Horizons, LLC is happy to recieve a 2021 LIHTC award from NYC Department of Housing Preservation & Development for our HPD MWBE RFP project in the Bronx, 784 Courtlandt!!! THANK YOU to all of our partners and supporters!!! Infinite Horizons, LLC appericates EVERYONE for being apart of this journey!! We look foward to developing this great project!!! This is a fantastic way to end the year!!
Infinite Horizons, LLC is honored to receive this recognition from Enterprise Community Partners at the New York 2021 Gala celebrating the Equitable Path Forward Initiative!!
It was a pleasure to share the stage with so many talented honorees that are working hard to create some of the most innovative and impactful affordable housing across New York City!!
We would like to thank all of the attendees that came out to support and celebrate this monumental achievement with all of us!!!
Congratulations to Honoree Marie Louise Carroll NYC Department of Housing Preservation & Development, Thanks to the support of Priscilla Almodovar, Baaba K Halm, Vicki Been, and Todd Gomez for making this a memorable evening!!! Congratulations to Apex Building Group, Inc., CB-Emmanuel Realty, LLC, Dabar Development Partners LLC, Brisa Builders Corp/ Brisa Builders Development LLC, Carthage Real Estate Advisors, AIK Property Group, LLC, NCV Capital Partners, SMJ Development, Urban Ecoscapes, Inc., Webb and Booker, Inc., Urbane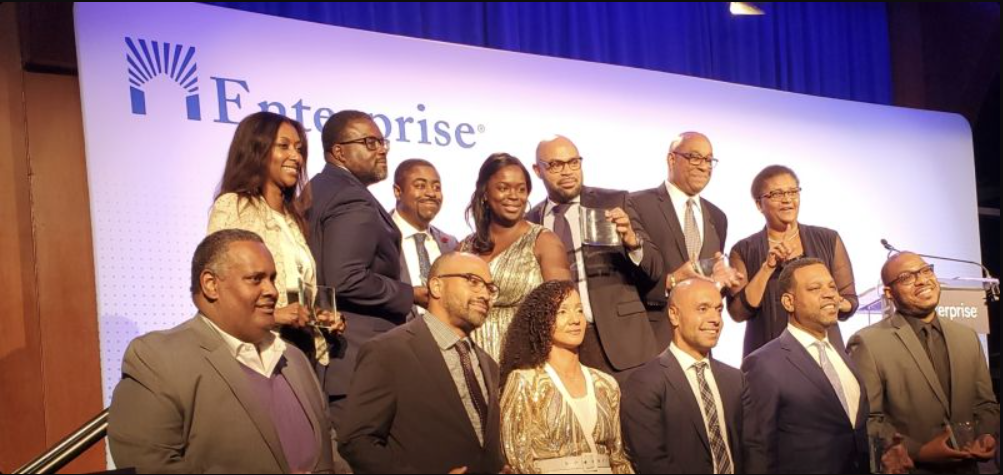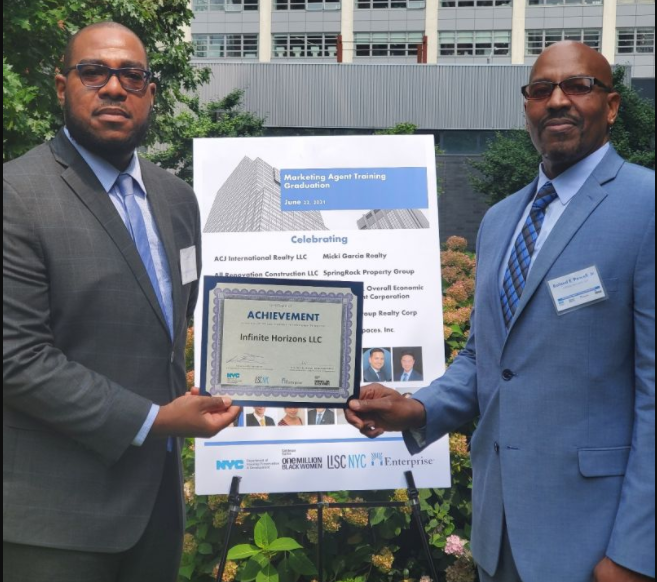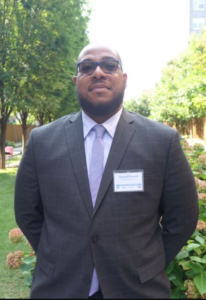 IREM Member Profile
Randall Powell, CPM®
IREM NYC First Vice President and chair of the chapter's Diversity, Inclusion & Equity Committee.
Co-Founder and Chief Executive Officer, Infinite Horizons, a certified New York State and City Minority Business Enterprise (MBE) Real Estate Development firm founded in 2007 by Randall and his brother Roland.
Background in Commercial Real Estate: I specialize in the development of affordable mixed use, mixed income developments. Projects range in size and scope from new construction to existing buildings with retail and community facility spaces across New York City.
What is the best career advice you ever received? Learn as much as you can, then execute!
A notable career accomplishment? Being a recipient of the New York City Department of Housing Preservation and Development's Minority and Women Business Enterprise Request for Proposals.
This initiative creates opportunities for minority developers, owners, managers and contractors to participate in real estate development in NYC.
Why IREM? IREM has a long tradition of providing world renowned training in the area of property and asset management. They are the go-to industry experts and the training they offer provides an opportunity to learn the fundamentals of property management and the more nuanced that add value to your business and career.
Current project for the DEI Committee? We're working with the Council for Urban Real Estate (CURE NY) to create an opportunity for more minorities in the real estate industry to see the value of having the IREM credentials, access to the IREM network and support base the organization has to offer as a benefit to their career path.  I believe this is a way to advance their business or career path to get into a position for C Suite opportunities by giving them skills that many top management offices require at the executive level. I believe IREM and CURE have a natural synergy that allows for collaboration to further both organizations' mission around DEI, and expand their organizational networks. With the goal to better serve their customers and clients in the property management space.
The fun stuff:
Binge worthy on Netflix? Any new release movie
Grand passions? Building a worthwhile business and mentoring entrepreneurs in real estate
Favorite midnight snack? Chocolate chip cookies
Go-to cocktail? Old Fashioned
Number one item on your bucket list? A six month trip around the world with my family  on the road less traveled!
Infinite Horizons, LLC would like to send a BIG THANKS!! to BronxNet Community Television for the opportunity to discuss the LISC NYC Developers of Color Training Program with Columbia University in the City of New York.
This incredible curriculum is focused on increasing the capacity of many of Infinite Horizons, LLC colleagues in real estate development, construction, and property management, so we can all best serve our city and communities now!!
This interview was great opportunity to have a more in-depth conversation on the program and on some of the projects Infinite Horizons, LLC will continue to do across the city as well the benefits of participating in the LISC NYC Developers of Color Training Program with Columbia University in the City of New York!! Congratulations again to the inaugural cohort!!!
Thank you again Valerie White, Eva Neubauer Alligood, Arturo Suarez, Monica Dean, Ibrahima S. SOUARE, MPA, Tatiana Pena, Janet Horn, and Tanya Pope!!!
Meet Randall Powell | CEO Infinite Horizons
We had the good fortune of connecting with Randall Powell and we've shared our conversation below.
Hi Randall, can you walk us through the thought-process of starting your business?
We wanted an opportunity to create an organization to support our vision of creating housing affordable for everyone. It was our intention to build a business that could be a part of our legacy and provide opportunities for our family, friends as well as be of benefit to our community.
What should our readers know about your business?
Infinite Horizons was created by my brother Roland and I with the mission to stop the disinvestment that was taking place in communities of color like our neighborhood of Southeast Jamaica Queens. What makes us unique is we grew up in a community that has benefited from the work of affordable housing, and we are products of this environment. One of our many roles as owners of an affordable housing development company is that we can have a direct impact on the housing that is being developed in neighborhoods across the city. This gives us an opportunity to have a seat at the table during the decision-making process as we move a project from conception to reality. We do this by giving our voice and input on how affordable housing needs so it can have the best impact on the community based on our experience and perspective.
Entrepreneurship has its fair share of challenges and we arrived at this point by being resilient and thoughtful in our approach to creating our business. We are constantly networking and developing our selves professional to be prepared and positioned for new opportunities. We learned how to take strategic risk, Joint Venture on new opportunities, build long lasting relationships, understand economics and finance as it relates to our business model and industry. We consider ourselves industrious, resilient, resourceful, and dynamic entrepreneurs. We believe in the positive social and economic impact that affordable housing has on communities of color. One of the pillars of our mission is to create housing for the 21st century through a holistic and sustainable method, taking into consideration the community and its many stakeholders.
Any places to eat or things to do that you can share with our readers? If they have a friend visiting town, what are some spots they could take them to?
Depending on the time of year if it's spring or summer we can go and see a basketball or baseball game. Then for lunch or dinner we can visit many of NYC's amazing restaurants, bars or lounges, one in each borough. Then take in a Broadway show and or check out a comedy club.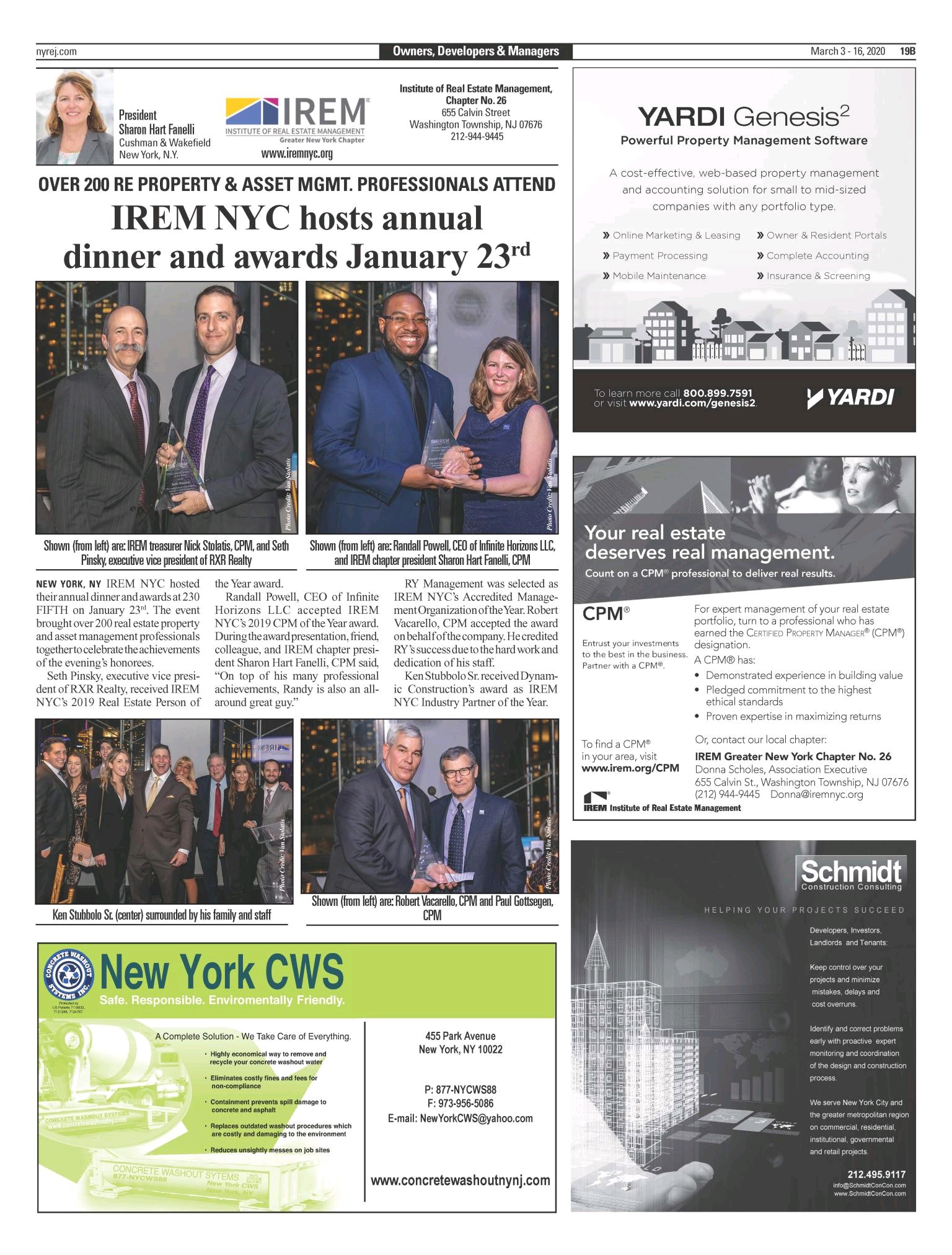 IREM Certified Property Manager of the Year Randall E. Powell Continues His Affordable Housing Mission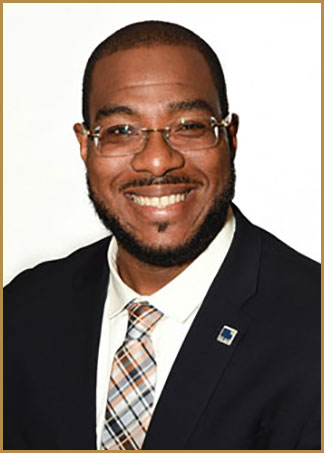 New York, NY — Randall E. Powell combines his profession with his passion.
As the co-founder of a minority-owned real estate firm, Powell, along with his brother Roland, helps develop and manage affordable housing projects.
"There is a nationwide affordable housing crisis," said Powell, co-founder and CEO of Infinite Horizons. "The overwhelming majority of renters today say they cannot afford to buy a home.
"In New York, there is a massive need for affordable homes," he said. "We have seen housing prices skyrocket while wages remain stagnant. Many people are forced to spend a disproportionate amount of their income on housing.
The days of allocating 30 percent of your money on rent continues to be a challenge for many."
Randall, 40, said the need for quality affordable housing is why he and his brother started the New York-based Infinite Horizons. The turning point for them was the 2007-09 Great Recession.
"We saw the impact that foreclosures had on people in parts of Queens and Brooklyn. We knew we needed to create affordable housing opportunities," he said. "With Infinite Horizons, we take underutilized properties and turn them into affordable housing or "community assets" as he like to refer to them.
The New York real estate industry is also taking note of Randall Powell's accomplishments.
The New York real estate industry is also taking note of Randall Powell's accomplishments.
The New York Chapter of the Institute of Real Estate Management named Powell, a licensed New York State real estate broker, the Certified Property Manager of the Year in 2019.
Sharon Hart, president of the IREM New York Chapter, called "Powell's leadership of his company is an example of what integrity, focus and smart management can accomplish."
Now Randall and his brother Roland are entering a new chapter with Infinite Horizons, which will start its first affordable housing project in the Fall of this year.
784 Courtlandt Avenue is a 20-unit mixed-use building with a community facility and commercial space in the Melrose neighborhood of the Bronx. The proposed 75-foot tall project includes 25,529 square feet with almost 19,000 square feet reserved for residential housing. The average apartment will be 943 square feet.
"Melrose is in dire need of affordable housing that supports families and addresses homelessness," Powell said. "We are proud 784 Courtlandt is our first affordable housing project. The Courtlandt project has established Infinite Horizons as affordable housing developers."
Cecil Brooks, who volunteers on the Bronx Community Board 1, has known Randall for years.
"The South Bronx has been underserved for decades and still needs significant investment in its infrastructure," Brooks said. "Randall and his team know this, which is why, after a decade of knowing him, I trust him to bring affordable apartments to Courtlandt Avenue."
In addition to the Courtlandt Avenue project, Randall said Infinite Horizons is working on several new projects in New York.
"We are working with some churches to develop their sites into affordable housing as well as increase their church space," Randall said. "Other projects include pursuing opportunities to work with New York Housing Authority, as well as private site acquisition."
Beyond their hometown in New York, the Powell brothers plan to expand into other markets, including New Jersey, Philadelphia, Atlanta, Florida, Chicago, and California. Later this year, the company will become the property manager of new sites in Harlem.
"We are expanding our project, construction and property services," Randall said, adding that the firm will launch professional and workforce development training initiatives to serve the communities better," Randall said.
"My brother and I are lucky. Our profession is our passion, we appreciate and enjoy the opportunity to work in the community and look at this as another form of giving back," he added.
To learn more about affordable housing and Infinite Horizons services,
call 718-219-3024 or email info@infinitehorizonsredc.com.